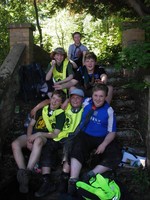 The County Scout Expedition Challenge is an annual event for teams of between 4 to 6 Scouts from the same District. This year the challenge was held from Friday 21st to Sunday 23rd May and the ten teams, including a team of 6 from 2nd Guildford scouts, completed 2 hikes of about 18km on the Saturday and 9km on Sunday.
Scouts work hard to complete the challenge. Apart from hiking, they pitch their tents each evening, cook all their meals on lightweight stoves, and each evening they complete their route plans for the walk the next day. On Saturday and Sunday mornings they cook their breakfasts, pack up their tents and other kit and set off on the hike.
Competition teams carry their food, stoves, tents and sleeping bags and walk without a leader between the checkpoints. Mobile phones are used if they get lost or are late to arrive at checkpoints. Training teams have a leader with them and only carry their lunches and emergency kit.
This year's route was circular starting from St John's Seminary in Wonersh, to Bentley Copse for Saturday night and back to the seminary on Sunday. At the end of the weekend teams were hot and tired as they inspected their feet for blisters and cooled off under the trees.
Father Jonathan gave a guided a tour of the seminary including the library and chapel. Richard Shortman, the County Commissioner, presented with teams with their certificates. The 2nd Guildford team got a silver award again and is already planning how to get extra points and a gold next year.