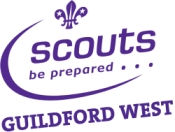 The District is seeking volunteers to ensure that we can provide Scouting for all the young people who would like to join the organisation.
We require urgently adults to assist in Onslow Village and Rydes Hill, with Beaver and Cub Scouts. It is a fun and rewarding role, allowing you to see young people enjoy the events / activities you help to organise and grow in confidence and ability over time. The Scout Association provides a wide range of books and electronic resources to aid volunteers plan their activities. Volunteers have access (free-of-charge) to an award winning national training programme to help them feel more confident in what they do.
No specific skills/qualifications required – full training and support will be given. Some experience of working with children/young people may be useful but not essential.
Experience of volunteering with the UK's largest co-educational youth organisation is a great addition to a volunteer's CV.
For more information, please provide your name and contact email address.