K9: Surrey Scouts expedition to Kandersteg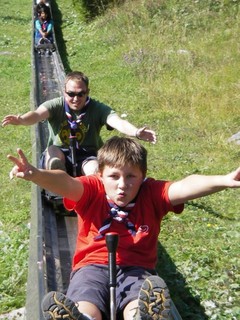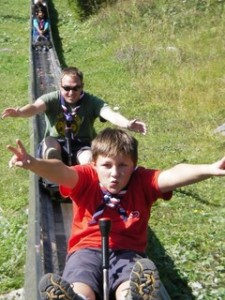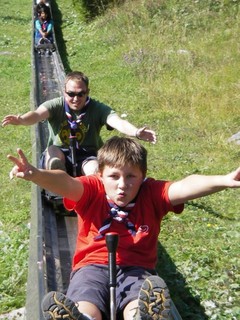 At the end of August 2009, Scouts, Explorers and leaders from Normandy, Stoughton and 2nd Guildford were among 450 Scouts, Explorer Scouts and leaders on Surrey Scout's international expedition to Kandersteg International Scout Centre in Switzerland. Expedition planning had taken two years and the coach journeys there and back ranged from 18 to 23 hours but it was well worth it.
A core team of county leaders spent two weeks providing food for two groups (one each week) of over 200 Surrey Scouts, Explorers and their leaders. They also arranged all activities and transport including booking tickets and organized a camp bank so there was no need to carry large amounts of cash. The media team kept us amused with daily newsletters containing jokes and articles from groups and useful information such as the fact that the kitchen had used 99kg of yoghurt, 52 kg of butter and 25.5kg strawberry jam. They also updated the website and K9 blog (all still on the Surrey Scouts website for those who want a look).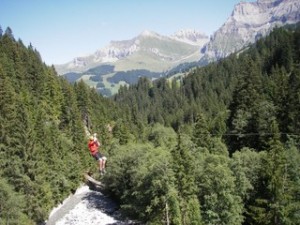 Scout groups spent a day rafting and swimming in the river Aare from Thun to Bern including one exciting bit where we went through a wave and had to paddle hard and then dive into the middle of the raft. Older Scouts and Explorers had to work harder on the more challenging Simme.
Another day was spent on the high ropes at Kandersteg or the zip wires and high ropes near Adelboden where there were fantastic views of the mountains and the river 140 metres below the highest zip wire.
Explorers walked for two days on a high-level route, spending a night at a mountain hut. Scouts spent two separate days walking on a high-level walk and a low-level walk (relative to starting at 1200 metres above sea level). 2nd Guildford walked from Selden to the top of the Gasterntal valley back to Kandersteg following the river Kander which changed from a stream to huge waterfalls through some fantastic scenery.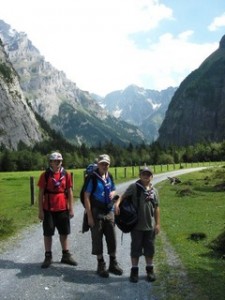 On their day in Kandersteg, many walked up to Lake Oeschinensee to swim in and row on the lake, enjoying tobaggan rides en route.
Apart from these core activities, each group chose an excursion or activity of their own. 2nd Guildford decided to visit the thermal pools at Brig via a train through the Lotschberg tunnel to Brig and a bus to Brigerbad. We also had time to explore Brig. The pools were amazing with views of the mountains, a long slide and a river section that alternated between moderate and very fast.
During the rest of our visit, everyone was kept busy completing a 36-task K9opoly challenge (including seeing how many people could be fitted into a Swisscom telephone box) and evening activities such as fondue and an international camp fire on the last evening.